Air Duct Cleaning
Is the Air You Breath Truly Clean?
Indoor air pollution is a growing public health hazard with negative effects on millions of people around the globe. Research shows that it contributes to more than half of all illnesses including sinusitis, allergic rhinitis, asthma and more. Common indoor pollutants include dust, mold, pollen, rodent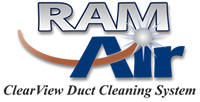 /insect remains and feces. The average person spends approximately 90% of their time indoors, where pollutant levels are often two to five times higher than outdoors. The EPA has ranked indoor air pollution among the top five environmental risks to public health. (U.S. EPA, 187; U.S. EPA, 1990)
The RAMAir ClearView Duct Cleaning System
We use the patented RamAir ClearView Duct Cleaning System for fast, efficient and affordable duct cleaning. It's the most effective system to date and the first system ever created that allows the homeowner to actually see the dust and debris as it is being removed from the duct system. This revolutionary duct cleaning process allows for state-of-the-art forced air cleaning with no mess or debris and won't harm duct surfaces! Check out the quick video below for more details.
Call Today. Breathe Easier Tomorrow.
Evansville, Indiana: (812) 473-4787
Henderson, Kentucky:(270) 826-5186

Owensboro, Kentucky:(270) 689-0808